Two Ways to Lock an App while in an iPad Security Stand
Posted by Thought Out Company on 9th Aug 2019
A very popular iPad security stand requirement is not allowing the guest user access to the Home Button on the iPad. This is for those times when you do not want anyone changing the current app or messing around with the iPad settings. For instance, using the iPad security stand at a trade show with a demo app running or an iPad order entry station at your local restaurant.
Access to the Home Button of the EnCloz Security iPad Stand can be configured, at time of purchase, as standard (full access), covered (no access) or pen-tip (access with a pen-tip only). However, there is a second option that does not require the mechanics of hiding the Home Button in an effort to lock it out. In the settings of the iPad is a feature called "Guided Access" that can lock out the Home Button. It can also lock-out Volume Buttons, the Top Button, Motion, Keyboards, the whole touch screen or a selected portion of the screen can all be locked out using a multi-digit guided access password that you enter. Locking out the Home Button, through Guided Access, would give you the option to select the standard (full access) configuration option, which has no additional cost to the consumer when purchasing the EnCloz Security iPad Stand.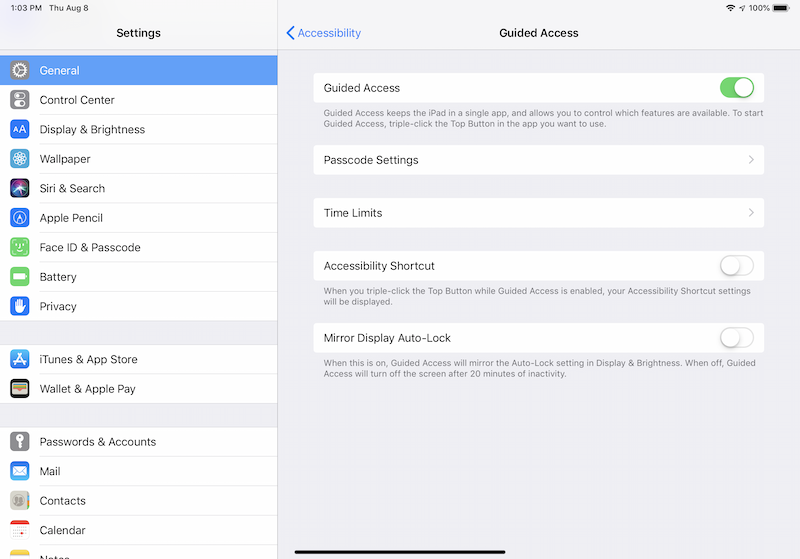 To lock the iPad Home Button go to Settings > General > Accessibility > Guided Access. Swipe to turn on Guided Access. Tap the Passcode Setting and set the desired passcode; depending on the iPad model you may be able to use Touch ID or Face ID to lock and unlock this feature. Then you will need to open the app you want to lock and then triple-click the home button or the top button and tap "Guided Access" (Note: It is very important that you're in the app you want to lock - you cannot be in the Settings app, home screen or the lock screen as these areas cannot be activated). From this point the screen will prompt you with more options like, selecting areas of the screen to lock out and more, then tap start. To end the Guided Access (unlocking of the iPad Home Button), triple click the Home or Top Button, enter the password and tap end. If you enabled Touch ID or Face ID for Guided Access, triple click Home Button or Top Button and ID will do the rest without the password.
Note: Guided Access is also available on iPhones, however you may need to triple press the Side Button or the Home Button instead of the Top Button.