Car, Kitchen, Boat, Desk, Wall, & More
Custom mounting with options, not just for car windshields - Position it the way you want - Portrait to Landscape Up, Down, Roll, Yaw, Pivot
The mount is simple to use with an asymmetrical double balled stainless steel curved shaft. The asymmetrical ball arrangement allows for an articulating natural feel and flow, while moving the iPhone in the holder. (Friction screw adjustable)
iPhone mount where you want
In the car, under the kitchen cabinet, in the workshop
You have a choice where to mount your iPhone
Case or Bare
Engineered to be used daily
The PED4 Mount CH iPhone mount has user configurable fingers that creates a snap like fit to hold the iPhone. These fingers allows the tripod mount to be used with or without a case efficiently, while securely holding the iPhone as your hand would. Once the holder is configured to your desired fit, there are no special procedures needed, the iPhone installation and removal is instantaneous. All of the controls, ports and camera are fully accessible at all times.
Solid Mounting Starts at the Base
It can be securely mounted with 3 provided screws that will fasten the 3 lobed mount to plastic, wood, metal, fiberglass and more. If that is not practical, additional mounting solutions and accessories are available, see below.
Stick it down with a 3" base
Car Dash, Boat Helm, Kitchen Cabinet, Desktop or even the Refrigerator
The large 3M adhesive pad is required to achieve the best iPhone mount stability, over 80 pounds of holding power. This adhesive pad will stick to many smooth surfaces for the easiest installation. This optional kit includes a 3" round base and a semi-permanent adhesive pad that is replaceable and will not leave residue, should removal be desired.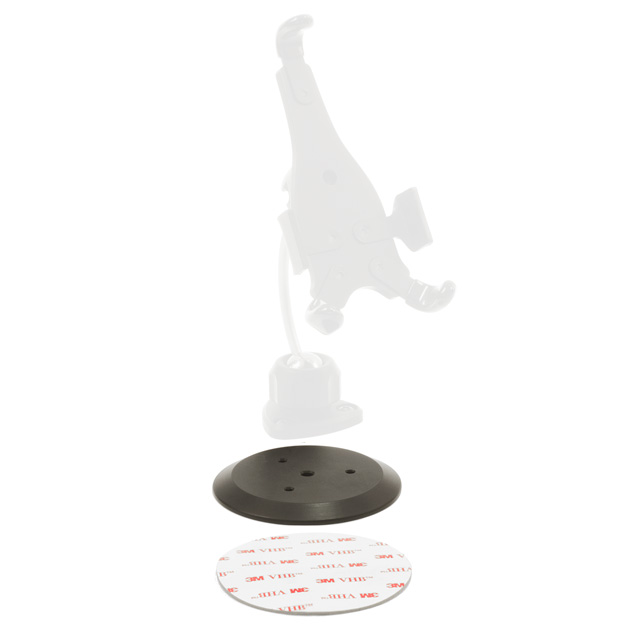 Aluminum Custom Install with a 90˚ Bracket
Machined solid aluminum, allowing a 90 degree right angle to your iPhone 6s Plus mount.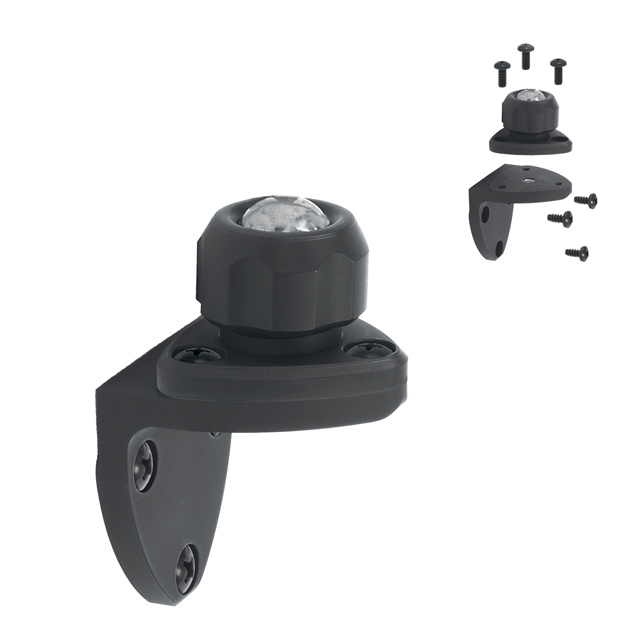 Proudly made in Connecticut, USA from solid steel, alloy, machined polymer and heat resistant polymer materials.
FEATURES:
3 slide adjusting Alloy Fingers (with soft vinyl covers to protect iPhone)
2 slide adjusting Guides (keeps iPhone straight in holder)
Articulating and Pivot Motion to Find Your Perfect Position

Solid steel balls - 9/16" (Holder) and 3/4" (Mount) for fluid pivoting action (Friction screw adjustable)

Holder

Roll: ∞ infinite (When device is parallel or perpendicular to support shaft there is an index for the rotation of portrait and landscape)
Yaw: ∞ infinite (left to right)
Pitch: >180˚ (front to back)

Mount

Roll: 90˚ (side to side)
Yaw: ∞ infinite (rotational)
Pitch: 90˚ (front to back)

Base - 3 Lobed Mount
Full Control, Port and Camera Access
Color: Black
CH MODEL HOLDER SIZE:
CH61 for iPhone 8 Plus / 7 Plus / 6s Plus / 6 Plus - Pixel XL

Width: From 3.06" to 3.66"
Height: From 6.22" to 6.87"
Depth: Slide finger is .6" tall (The depth of your case can be deeper than this dimension)
CH60 for iPhone X / 8 / 7 / 6s / 6 - Pixel
Width: From 2.64" to 3.24"
Height: From 5.44" to 6.09"
Depth: Alloy finger is .6" tall (The depth of your case can be deeper than this dimension)
CH50 for iPhone SE / 5s / 5c / 5 - iPod 6g /5g
Width: From 2.15" to 2.75"
Height: From 4.65" to 5.3"
Depth: Slide finger is .6" tall (The depth of your case can be deeper than this dimension)
All models work with large cases like OtterBox Defender, Commuter, and many more
Notes:
Any belt clip should be removed to work with holder.
PED4
series and PED3 series products are not interchangeable with one another.
ITEMS INCLUDED:
CH Adjustable Holder Assembly
4" Curved Stainless Steel Shaft with Asymmetrical Pivot Balls (S490)
3 Fast Turn Screws (#8 Suited for Plastic, Wood, Metal, Fiberglass and More)
5/64" Wrench (torque limiting)
3/32" Wrench (for pivot tension-not shown)
MOUNTING INSTRUCTIONS:
iPhone, case, & lenses not included
PED4™ is a trademark of Thought Out Company