iPad POS Security Mount - EnCloz
$149.99
The iPad POS Security Mount, EnCloz will provide you with an enclosed POS or secure tamper resistant display, while allowing access to controls and ports. Customizable to any credit card reader like iDynamo, Square, PayPal, Chase and more (please contact us if your requirement is not selectable below). Articulating and pivoting motion to find your perfect position from cashier to customer or for display purposes. While great for point of sale, the enclosure is also perfect for general display purposes like restaurants, museums, trade shows, and other events. The base model EnCloz allows "protected" access to all perimeter ports and controls, this can be changed at request prior to purchase (please contact us if your request is not selectable below).
Proudly made in Connecticut, USA from machined solid steel and polymer materials.
STANDARD FEATURES:
Full encloser for iPad with standard home button and front camera access made from Kydex material (Home button, and camera access security available - see below)
Secure tamper resistant enclousure containment screws (6 places)
Solid stainless steel pivoting balls - 3/4" for rugged pivoting action

Combined geometry for both ball joints:

Roll: ∞ infinite
Yaw: ∞ infinite (left to right, rotational)
Pitch: 155˚ (front to back)

Support shaft - 7" x 3/8" solid stainless steel
Base - 3 lobed mount
Full access to controls and ports. Standard camera(s) lens view access options - at no charge)
Color: Zero finger print textured black or optional white textured face plates
COMPATIBLE:
We make a custom fit (not delayed) for ALL iPads - 9.7 (2018-6g) - Pro 12.9 (2g, 1g) - Pro (10.5, 9.7) - Air (1, 2) - 5g, 4g, 3g, (2) 2g - mini 4g, 3g, 2g, 1g (You need to identify your iPad for checkout, see how to identify your iPad model name)
SPECIFICATIONS:
8" center of device height (Point of rotation)
ITEMS INCLUDED:
iPad Enclosure with Mount - Secure & Tamper Resistant

Front Plate
Rear Plate
6 Screws
1 Wrench

7" Stainless Steel Shaft with Symmetrical Pivot Balls
Pivot Nuts (2)
3 Lobed Mount
3 Fast Turn Screws (#8 Suited for Plastic, Wood, Metal, Fiberglass and More)(Other fastener may be required for other substrates, like sheetroock, etc)
SELECTABLE OPTIONS:
Card reader access (iDynamo, Square, Paypal etc)
Black or white face plates - Front and rear
Home button access - Full finger access, pen tip access and no access
Camera access, front - Full access or none (covered)
Camera access, rear - Full access or none (covered)
REQUESTED OPTIONS: Please contact us with you requirements
Additional clearance cutout(s) or tamper resistance features to any port, control or area
Pivot Nuts - Tamper Resistant (Tommy Bar for secure pivot nut adjustment)
Cable routing options
More upon request
OPTIONAL ACCESSORIES: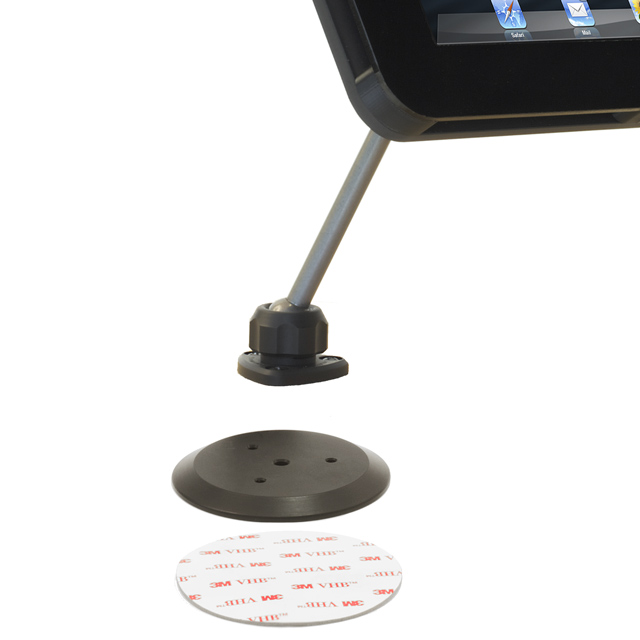 Stick it down with a 3" base
Countertop, Benchtop, Desktop, Tabletop or Wall
The large 3M adhesive pad is required to achieve the best iPad mount stability, over 80 pounds of holding power (and more to remove). Will stick to many smooth surfaces for the easiest installation. This optional kit includes a 3" round base and a semi-permanent adhesive pad that is replaceable and will not leave residue, should removal be desired.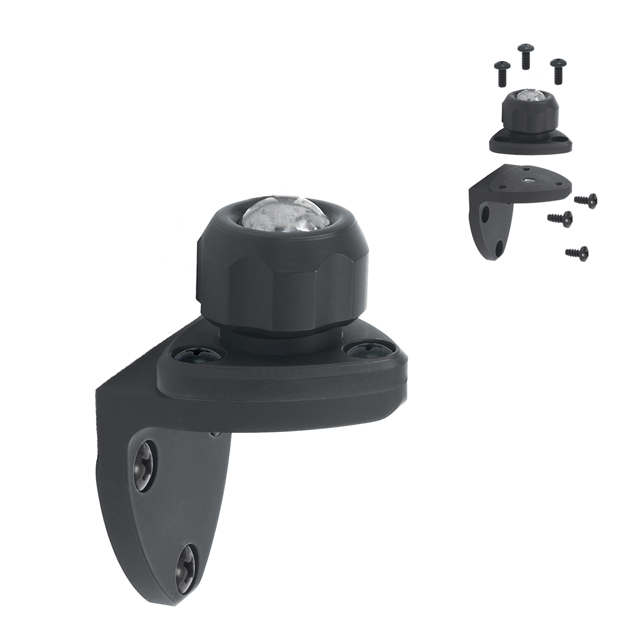 Aluminum Custom Install with a 90˚ Bracket
Machined solid aluminum, allowing a 90 degree right angle to your iPad mount.
Manufacturer Part Number:
IP20-ENCLOZ
Warranty Information:
Commercial 90 Day Limited Warranty - Manufacturing Defect