iPad Pro Stand Review 2017
Posted by Thought Out Company on 26th Jan 2017
Six iPad Pro 12.9 Stands Reviewed for their best features and the apparent short falls
This review article is focused towards the iPad Pro 12.9 stand, but all of the stands do work with the standard 9.7 iPad and some with iPad mini.
We collected a few of the lead performing iPad stands to review and are sharing our results with you. Something we found with many of iPad stand products is their similarities, so we investigated. While the iPad stand market place expands and demand increases, the competition becomes more fierce. This demand exposes what is known as "Private Label Brands", sole individuals or possibly small partnerships that import "no name" products from across the globe at drastic low costs, plausibly from low wage workers in unfavorable work environments. (WE LABELED THEM IN ORANGE BELOW - We recommend staying away). From there, they poorly label the product in some form (or not at all), trying to appear like an authentic manufacture design brand. Then another individual or partnered private label brand will place an order for the very same product (or with little changes) and add their different labeled name to it. This creates many problems for the end users, which is out of the realm of this review; however, quality, dignity and product confusion are among them.
Moving on, with Amazon.com being where a majority of people begin and end their product search and purchases (reports state that more than 50% of people now buy on Amazon) we selected a group of iPad stands from Amazon and general search engine results. Here is our review of the best features and apparent short falls.
---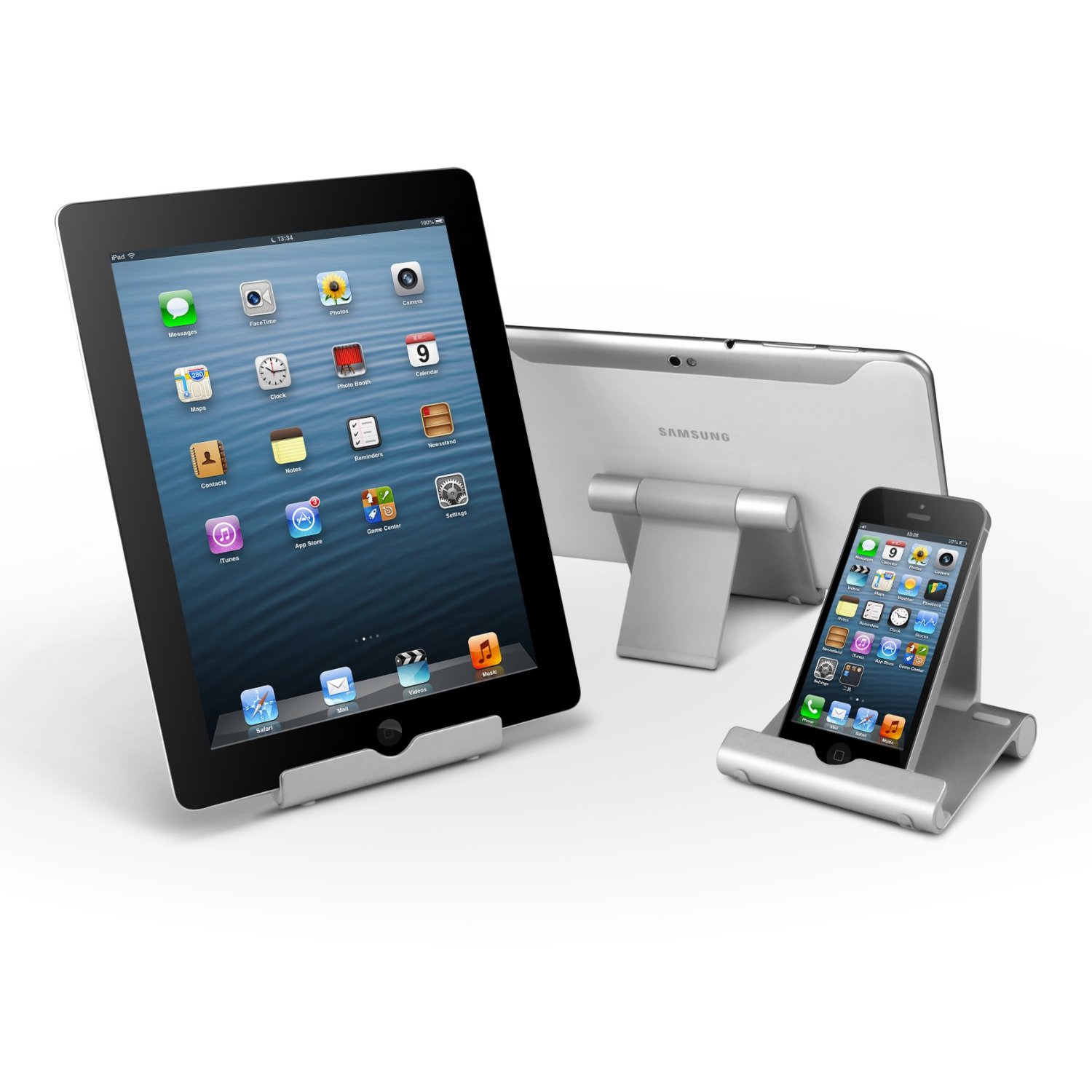 Anker - The Bargain Basement Price - $8.99
Certainly cost is sometimes most important, and this wins in that category, and it does function as an iPad stand after all.
You will get incremental angle adjustments with a second-rate button mechanism and elevation for the iPad at about 3/8", so if you need a lifted ergonomic stand this is not the one.
Works with devices and cases up to a certain size, that size varies in width, please look at the details carefully in this product listing(s).
Hard plastic feet do not grip table or surface top, so sliding might be an issue if you tap frequently on your iPad.
This stand does not allow a battery/cable connection while in the portrait position.
Dimensionally small in size and weight. The product is listed that it works with the iPad 12.9, however, we would not recommend it.
Quick Specifications: Weight 6.1 oz 3.9 x 3.5 x 0.8 inches
Import (China?)
---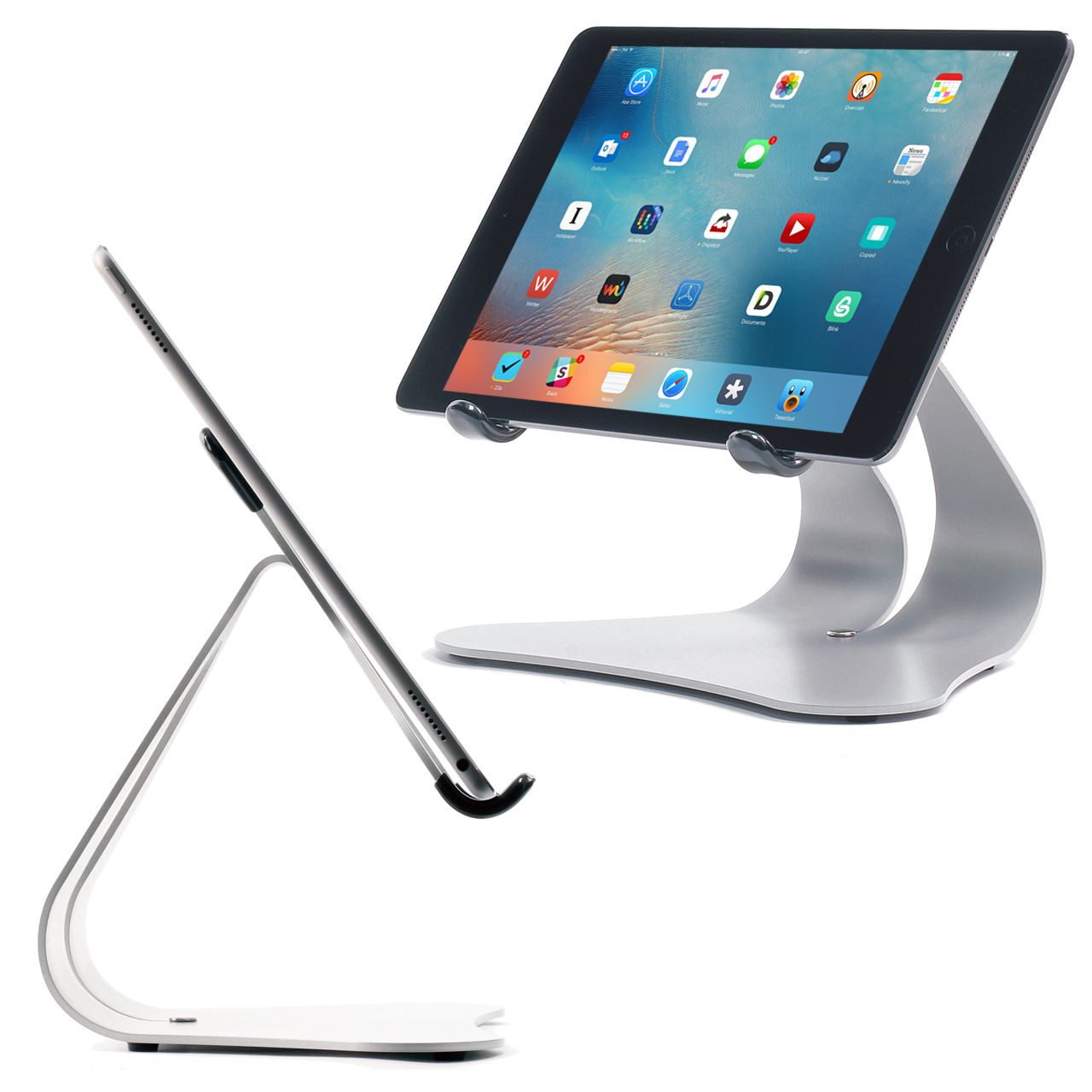 Stabile 2.0 - The Original One Piece - $49.99
The original large foot print stand that started it all back in 2010, with a single 18 inch piece of formed steel. A design that earned its name Stabile: Latin for an abstract stationary steel structure
iPad elevation at 3.63 and a fixed 55˚ angle gives this stand a substantial ergonomic stature that will be appreciated by most, while being used at a comfortable eye level.
With a case or a bare iPad, and positioned in portrait or landscape, the battery/cable connection is accessible at all times. The cable gripping slot management built into the back of the stand keeps the cable off the floor and ready for your connection.
The stand is of a commercial industrial grade to last years, for your future tablets too.
Steel material (not soft aluminum) that provides a solid, NO wobble user experience because of its serious weight.
Protective vinyl at all iPad resting places, keeps your iPad safe regardless if you have a bare iPad or a large case of any size.
Extreme hard protective finish from a heat baked process (not paint)
3M rubber feet provide a firm planted, non sliding stand.
Quick Specifications: Weight (2.8 pounds) 44.8 oz 6.5 x 8.8 x 8.2 inches
Made in USA by Thought Out
---
Lamicall - Neat Little Stand $18.99
This stand does have a movable friction mechanism to adjust the angle of the iPad for viewing, however this mechanism is not adjustable to tighten and is limited and weak for the weight and size of the iPad Pro 12.9.
The stand lifts the iPad for easier viewing at about 1-1/2" for a typical viewing angle.
Landscape or portrait, this stand does allow the battery/cable connection and a minimalistic design attempt for cable management, with a simple hole.
It is small at only 2.75" wide, so it can tip side to side easily
Quick Specifications: Weight 8.8 oz 5.3 x 2.8 x 5.5 inches
Import (China?)
---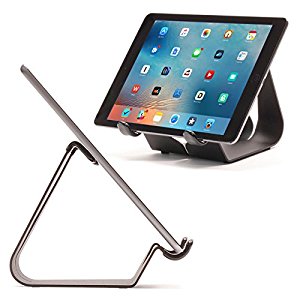 Simplex - Entry Level Meets High Quality - $24.99
Entry level at an extreme high quality
When compared to what you think most products are made of today this is on the other side. It is the real deal and solid. While not of a high ergonomic height, it does satisfy a modest 1.375" iPad elevation and clearance for any battery/charge cable connection, a nice feature the other low cost stands do not have.
It is a full frame design, meaning it is a true fit for the iPad Pro 12.9
There is a dual slot feature for the battery/cable connection to reside when the iPad is not home in the stand, and in the stand for that matter. This keeps the the battery/cable conveniently available to you and off the floor.
Protective vinyl at all iPad resting places, keeps your iPad safe regardless if you have a bare iPad or a large case of any size.
Extreme hard protective finish from a heat baked process (not paint)
3M rubber feet provide a firm planted, non sliding stand.
Quick Specifications: Weight (1.25 pounds) 20 oz 7.0 x 5.07 x 5.80 inches
Made in USA by Thought Out
Simplex or on Amazon by Thought Out
---
Stouch - Features at First Glance - $39.99
A stand that has an initial nice look for the iPad Pro, but be careful if you have anything larger than a thin case.
A plastic spring clamping mechanism does not open up much more than the iPad Pro 12.9 size, and this is another second-rate mechanism that simply does not have the proper grip setting and is not adjustable. We can back that up with many reviews of the iPad slipping out of the stand.
Ergonomically, it does assist in getting the iPad up and angled to a comfortable user position. The product descriptions and detail specifications contradict the elevation height amount, so we will let you decipher those numbers and what to believe.
Very thin bottom feet are supplied to protect desktop.
A nice Apple silver appearance from the base does give this full size iPad Pro stand a good look, it merely weighs 1.5 pounds. That is not enough counter balance weight for the elevation of the iPad to keep from ever falling over. Again, the actual weight is contradicting from description to detail specification areas; none the less still too light for counter balance and stability that is needed for a solid stand feel and use.
Quick Specifications: Weight (1.5 pounds) 24 oz 9 x 2.6 x 5.7 inches (not validated, because listing contradicts)
Import (China?)
---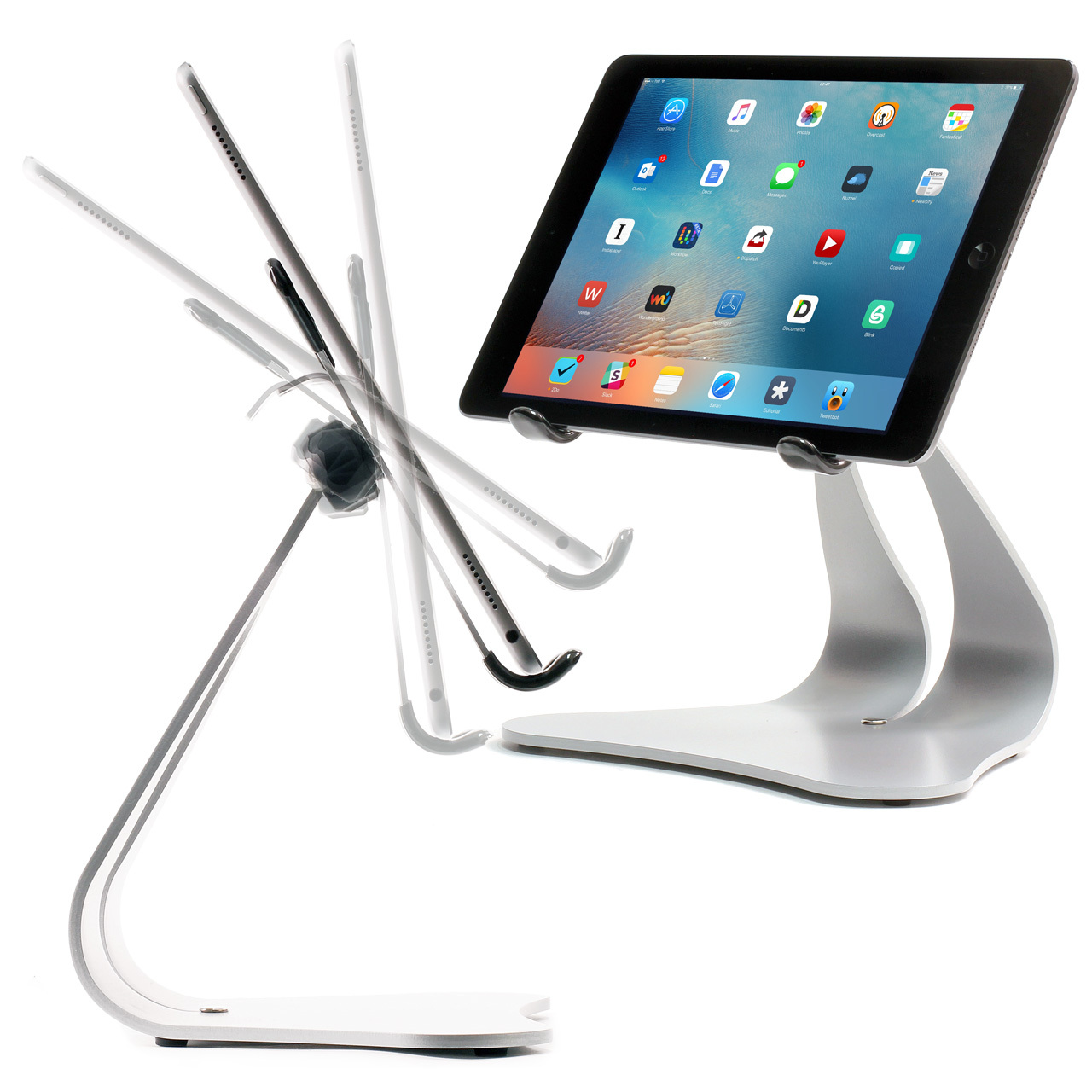 Stabile PRO - Absolutely - $74.99
Absolutely no compromises here. You read about the Stabile 2.0 above, right? Well, take that design, the features, and the quality of that Stabile 2.0 stand and increase to 3/16" of thick steel to the base for a whopping 3.2 pounds of a massive anchor that will never move. Rise the iPad up to 5.50" and add a 300 series solid steel ball that creates the full pivoting feature to view your iPad in any ergonomically comfortable position that you desire. Wether you need an iPad on your desk, in your kitchen, store front, restaurant or counter, this stand will not disappoint. Stabile PRO is the stand all other stands want to be like, but none come close! It is truly of a commercial industrial grade that will please many large tablet and iPad users.
Quick Specifications: Weight (3.16 pounds) 51 oz 8.8 x 7.5 x 10.2 inches
Made in USA - Thought Out
---
Summary
In summary we hopefully leave you with a little more knowledge on these products and what is most important to you. We believe products should meet your demands, requirements and last a lifetime!
Key points to ask yourself:
Is a quality, wobble free stand important?
Why does the height, positioning and ease of use matter to me?
How long do I expect this product to last?
Where and how is it made?