Pixel Phone Tripod Mount, Holder, Car Mount, & Stands
Posted by Thought Out Company on 17th May 2017
The Google Pixel and Pixel XL phone fit the PED4 product line.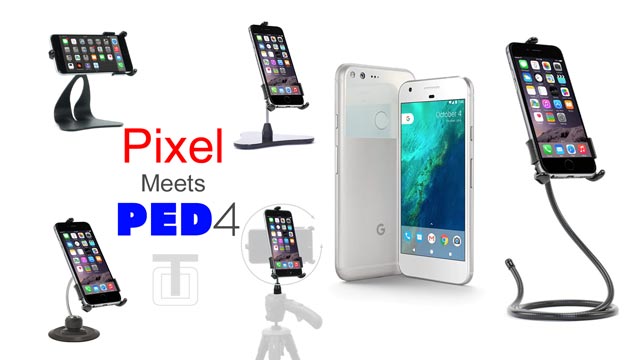 Pixel or Pixel XL phone users looking for a tripod mount, holder, car mount or stand now have an option that has been proven by the iPhone community for years. The PED4 product that started from the original PED more than 13 years ago, and now has become cross platformed, with complete Google Pixel and Pixel XL phone compatibility.
5 - PED4 products ranging from tripod mounts to car mounts to desk stands, you will be able to take your selfies, take great portrait or landscape photos, use for Facebook Live or YouTube Live and such much more. As an example, many users love the simple PED4 Grand stand for a place during over night charging on the night stand, or for viewing on the kitchen counter or office desk with quick and simple rotation you will be pleased with hands free use. And don't forget, all of these stands, mounts and holders work with most cases too.
The Pixel phone is compatible with the CH60 holder and Pixel XL with CH61 holder when adding to cart