Compare the Best iPad Stands & Tablet Stands
Posted by Thought Out Company on 19th Jul 2016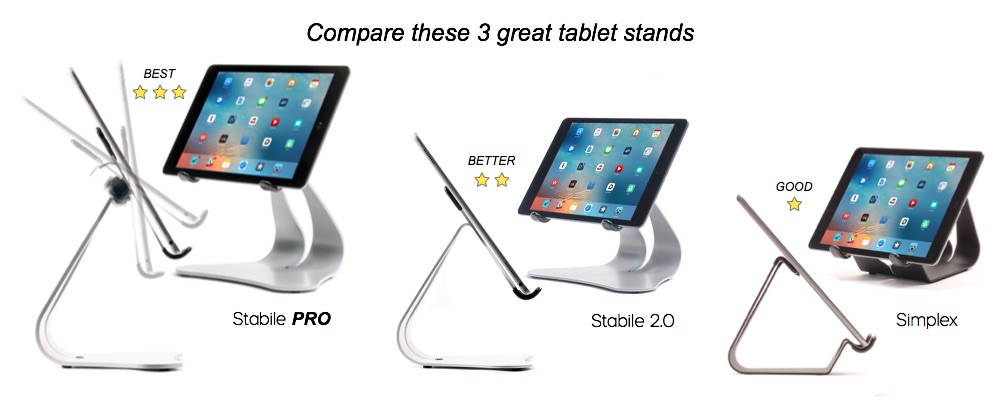 Discover the differences and similarities of our three best iPad stands and tablet stands.
Starting with similarities, all three stands are very stable, all made from USA steel of different thicknesses as required by their design, and height to achieve proper stability. They all are oven baked with a powder coating durable finish. With one other notable feature for your USB charge cable, there are convenient management slots. Each stand allows portrait or landscape positioning of the tablet
The Simplex tablet iPad stand is made from .090" thick steel and elevates the tablet 1.38 inches. This height allows plenty of room for the charge cable. The viewing angle position is fixed at a proven tested ergonomic 55 degrees. The Simplex is a great starter tablet stand.
The Stabile 2.0 tablet iPad stand features the floating design, giving you the 3.63 inches of elevation with a levitation design, providing a high quality look and feel. This quality can only be achieved with .120" thick formed steel that provides the 2.25 pounds of stability.
The flagship product, the Stabile PRO tablet iPad stand is the tallest, heaviest, and the most stable tablet stand. The biggest feature of this tablet stand is the adjustable stainless steel ball pivot that provides you with any viewing angle desired. The 3.16 pounds of weight comes from the extremely thick .179 inch steel, providing the 5.50 inches of tablet height, it is incredibly stable. One last little thing, the Stabile PRO allows an optional Grapple S4 strap system for a bit more security to the tablet, strapping the device into the stand, while not necessary some might like the option.