How to Shoot Flat Lay Photography and Videography
Posted by Thought Out USA on 17th Aug 2021
Styling a photo for flat lay photography looks intimidating, but is quite easy when equipped with creativity and proper tools.
Keeping the styling clean and simple with your favorite backdrop is a great way to tell a story and grab the viewers' attention. In this photo, the story is how an iPad stand brings efficiency and ease into the daily use of an iPad.
Creating a flat lay photo is further simplified by using your iPhone with a self-timer, a tripod, and the PED5-X12 Extended Tripod Mount which allows for a steady shot, extended way into and overtop of the scene you've just created. Typically, only your arm's length could achieve this far of a reach; however, the PED5-X12 Tripod Mount gives you an arms-length without having to hold the iPhone and risk camera shake or constant repositioning to achieve the perfect angle as you continue the photoshoot.
From a birds-eye view, this is how the photography set-up scene appears. Simple, right? Yes, it truly is!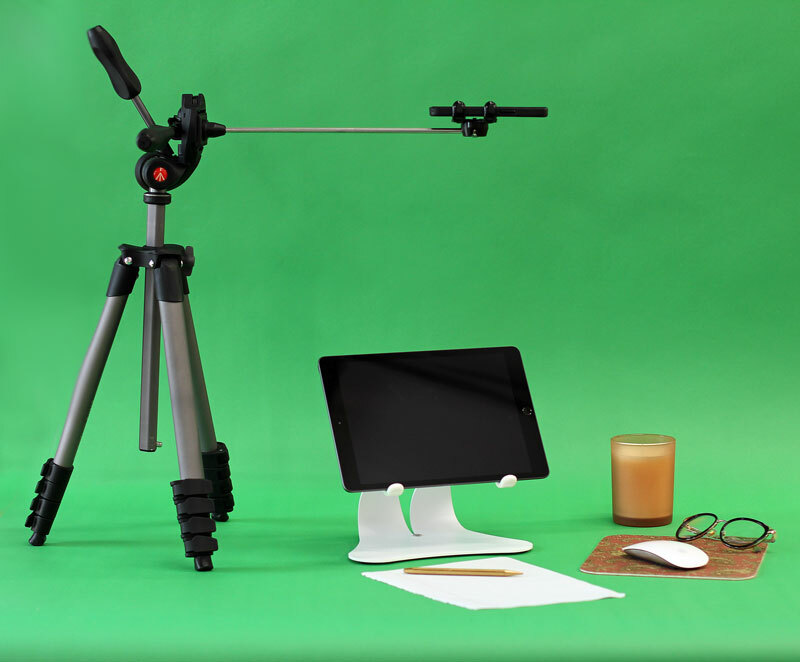 Looking for dimension - try adding styling blocks to elevate an object. A styling block is any square or rectangular object that can be placed under another object to give it a lift. You can then slip other items underneath the lifted item for added layers and dimension. I'm pretty sure you already have styling blocks in your home - matchbooks, deck of playing cards, children's blocks, small bowls, make-up containers, the box your iPhone came in - the list is endless.
Come on over and check out the PED5-X12 Extended Tripod Mount for your next photoshoot! It's an essential tool for bloggers, photographers, shop owners, and anyone with a story to tell.
Alright - let's get creative! Show us your creativity and tag us @thought_out_company on your next Instagram pic using the PED5-X12 Extended Tripod Mount.