MagStay PRO
$4.99
$19.99
(You save $15.00)
MagStay PRO - MagSafe Power Connection Lock
Sometimes a Magnet is Not Enough
FEATURES:
Defeat the MagSafe power connection while using your laptop on your lap or other casual positions, including your laptop bag while charging.
Great for those no battery or dead battery circumstances
Store in ethernet port or attach to power cord
Viewport to see charge light indicator
Magsafe protective cap storage area*
Made in the USA
For all 15"/17" MacBook Pro models with adjacent USB port.
Does not work with new unibody Macbook or MacBook Air
For other models go here
COMPANY NOTE:
We believe the MagSafe power connection is a wonderful design by Apple for almost everyone. However, a few people want the security of NOT losing the power connection unintentionally, that is why we have this product.
* MagSafe connector cap, power connection cord & laptop not included.
MagStay™ is a trademark of Thought Out Company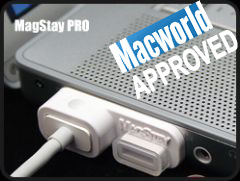 Availability:
Usually ship within 24 hours