iPad Flexible Stand
PED4 Coil IPA10
Pivoting & Gooseneck
The long, snake like, flexible, gooseneck coil stand can be manipulated into any shape you imagine to hold your iPad. The PED4 Coil IPA10 is Made in USA from solid and flexible steel. The PED4 Coil IPA10 iPad Air stand can be mounted anywhere and everywhere you can imagine.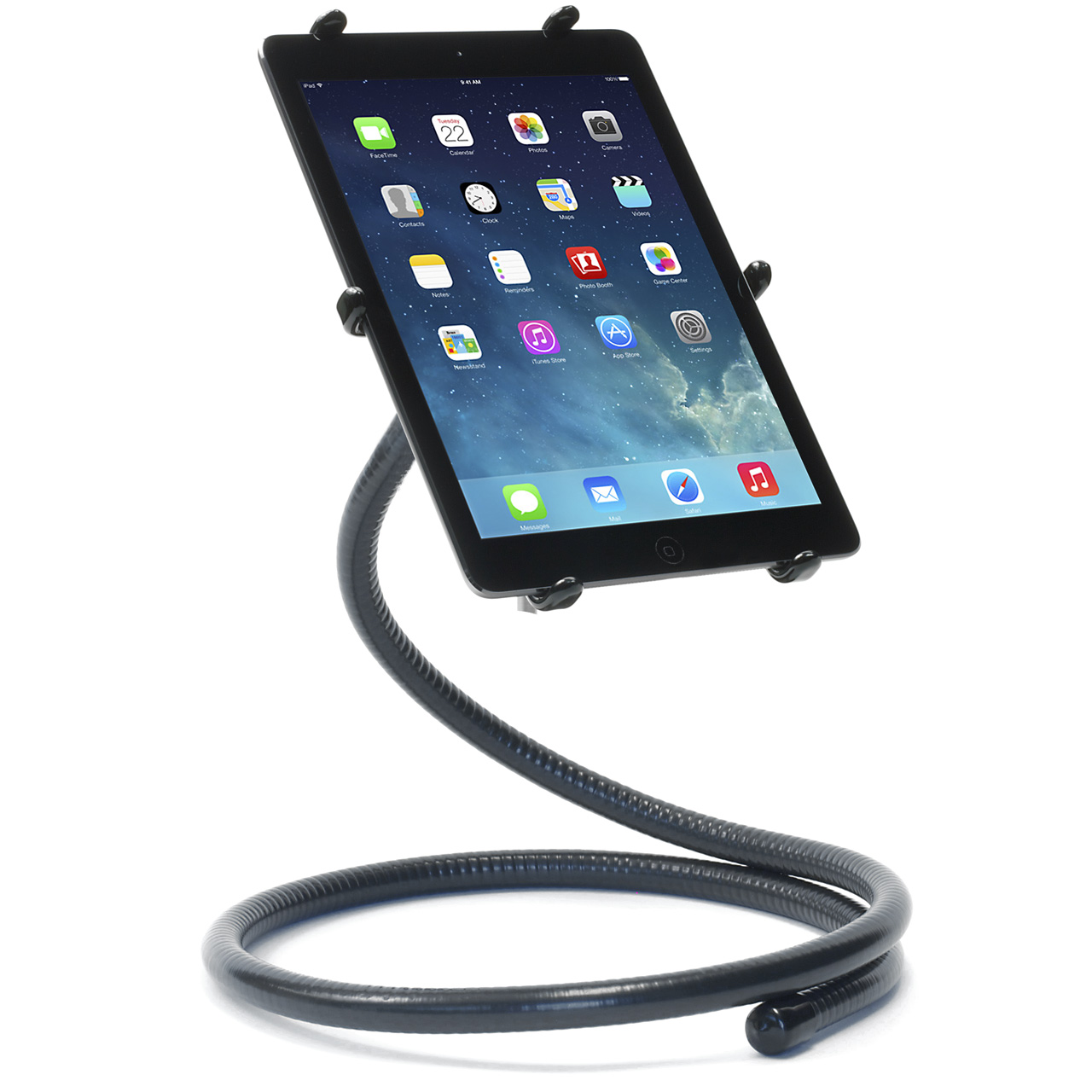 Pivot
Roll, spin, turn, rotate, pitch, yaw...
Whatever you call it, the PED4 Coil IPA10 iPad stand can be positioned to it. Using the solid 5/8" diameter stainless steel ball and socket technology you will feel the smooth pivoting freedom to any position you desire. (Friction screw adjustable)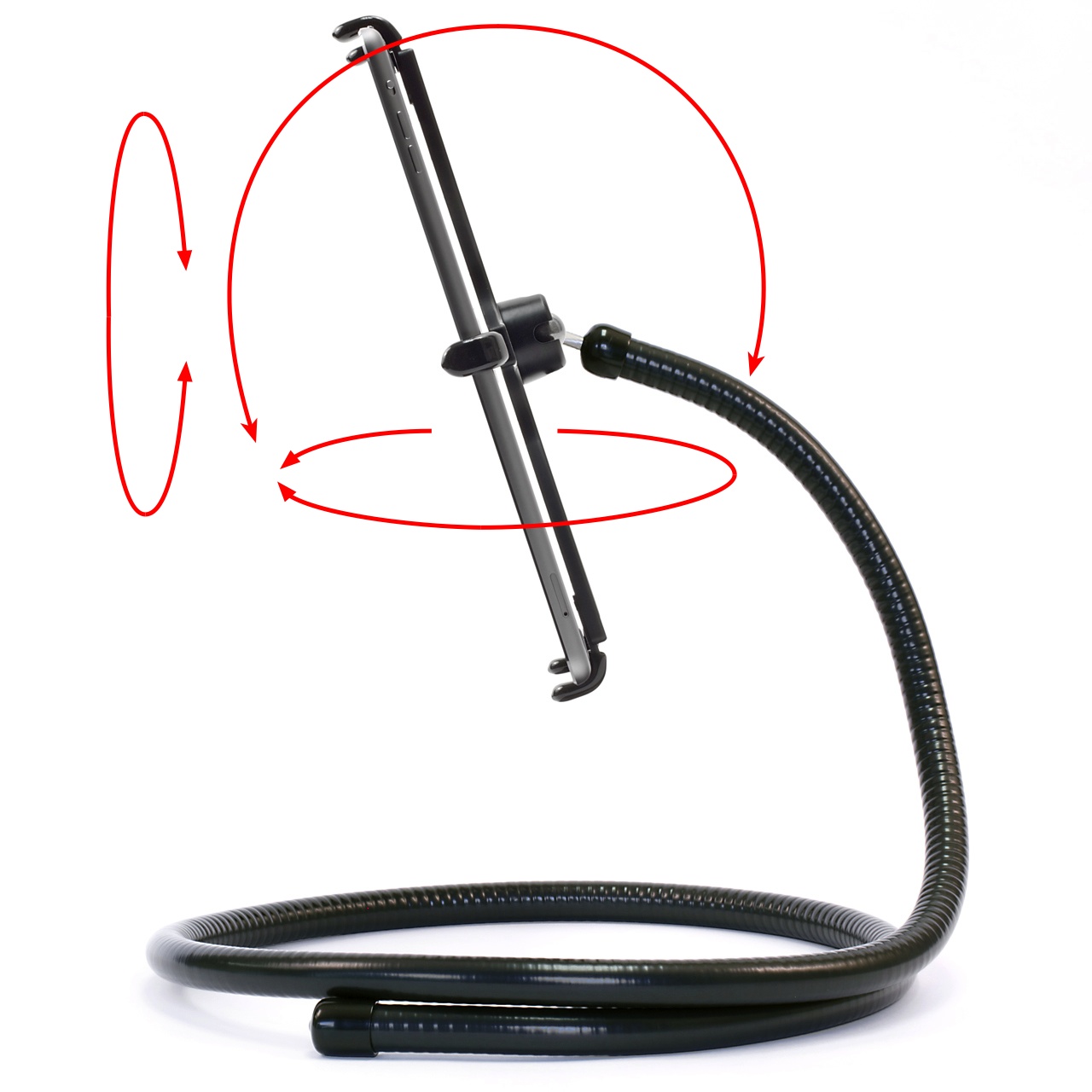 Wrap it up
Any way you want, it will do it
At just under 3 pounds you will immediately see and feel the quality of this very unique flexible iPad stand. The 54" long, 5/8" diameter vinyl wrapped flexible coil is very strong. The strength comes from two steel lengths twisted together into one. On one end is a 5/8" solid stainless steel ball that creates a fluid pivot joint for the iPad to be positioned instantly where you want it. (Friction screw adjustable)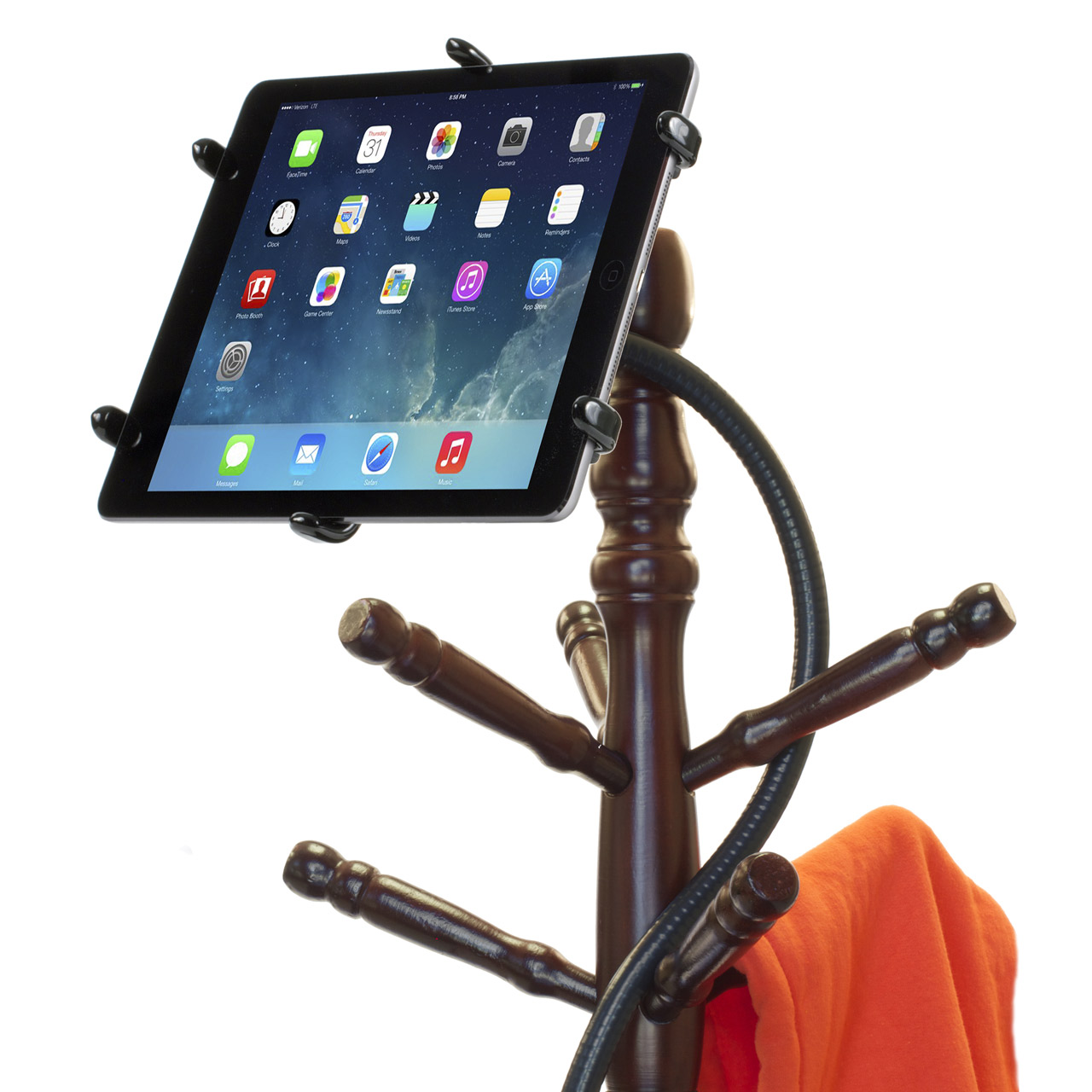 Case or Bare
Engineered to be used daily
The PED4 Coil IPA10 iPad stand has user configurable fingers that creates a snap like fit to hold the iPad. These fingers allow the mount to be used with or without a case efficiently, while securely holding the iPad as your hand would. Once the holder is configured to your desired fit, there are no special procedures needed, the iPad installation and removal is instantaneous. All of the controls, ports and camera are fully accessible at all times.
FEATURES:
54" flexible coil to twist to any shape, (limited to a minimum 5" bend radius)

5/8" diameter, black vinyl wrapped

6 slide adjusting Alloy Fingers (with soft vinyl covers to protect the iPad Air)
5/8" steel ball pivoting holder (Friction screw adjustable)

Roll: ∞ infinite (when device is parallel to support shaft there is an index for the rotation of portrait and landscape)
Yaw: ∞ infinite (left to right)
Pitch: >180˚ (front to back)

Solid and flexible heavy coil steel construction
Solid copolymer holder construction
Portable
Full control, port and camera access
Square credit card reader compatible
PayPal credit card reader compatible (Limited, reader must turned away from holder finger)
Color: Black
HOLDER COMPATIBILITY:
Designed for iPad Pro 9.7", iPad Air 2 & iPad Air with or without a case, skin, bumper or protective cover.
Also works iPad 4g, 3g and 2g with available Extension fingers, these will allow more room for a case or skin too.
Width: 6.3"~7.2"
Height: 9.1"~10.0"
Depth: 0.6"
OVERALL SPECIFICATIONS:
Weight: 2.9 Pounds
Length: 54"
Made in the USA
ITEMS INCLUDED:
54" x 5/8" diameter vinyl wrapped flexible gooseneck coil and steel ball
IPA10 Adjustable Holder Assembly
5/64" Wrench (torque limiting for initial finger setup)
3/32" Wrench (for pivot tension)
D-Shaped Fixture Plate
INSTRUCTIONS:
Click here to download (Coming soon)
Disclaimer and Nature of Product:
The setup and use of the PED4 Coil IPA10 with any automobile or similar setups will have varying results.
While extremely strong for its size, the Made in USA coil cannot defy the laws of physics and gravity. Installations and uses cannot exceed the ability of the coils strength. Coil should not be used in a manor that allows more than 18 inches of coil from the supported end to the holder end (cantilever from where the device is).
Keyboard, case, coat rack, sweater and iPad Air not included
PED4™ is a trademark of Thought Out Company