Stabile Coil PRO Flexible iPad Stand
The flexible iPad stand is a long, snake like, gooseneck coil stand that can be manipulated into any shape you imagine to hold your iPad and other similar size tablets. The Stabile Coil PRO is Made in the USA from solid and flexible steel. Like its little brother PED4 Coil CH50 for iPhone, the flexible iPad stand can be mounted anywhere and everywhere you can imagine.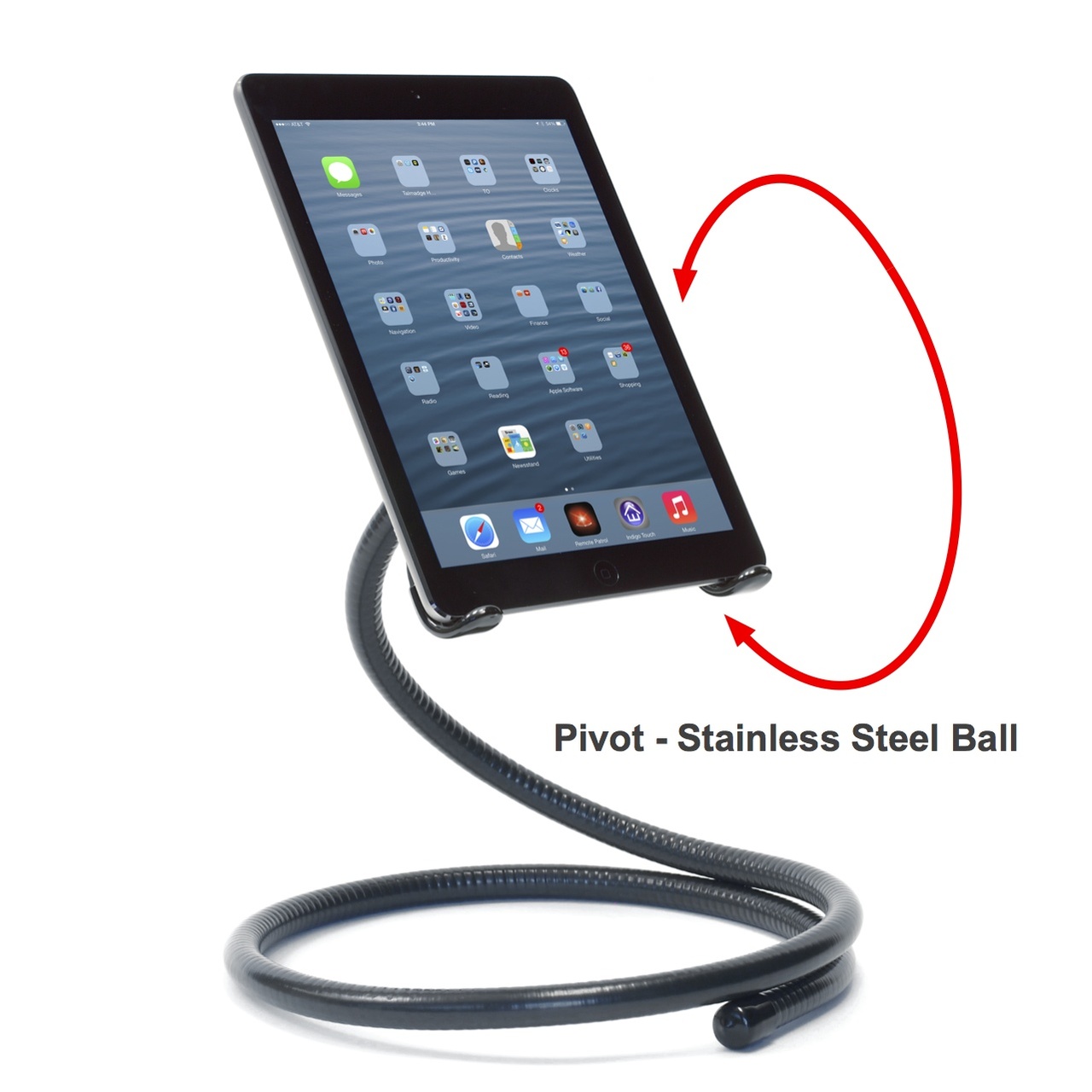 Case, skin, or no cover at all
We have you covered
Using the flexible iPad stand with or without a case or skin on your iPad or other similar sized tablets you will instantly see how useable the Stabile Coil PRO is, and we guaranty you will use it every day. As with all Stabile Elite Series products, the holder is fully pivotable while being the fastest and easiest to use. We believe the ease of use is what continuously makes you use a product, otherwise it is not used and not a wise purchase for you. For those that want to strap the iPad into the holder for added security, or the ability to have the iPad angled down, the Grapple S4 strap is included.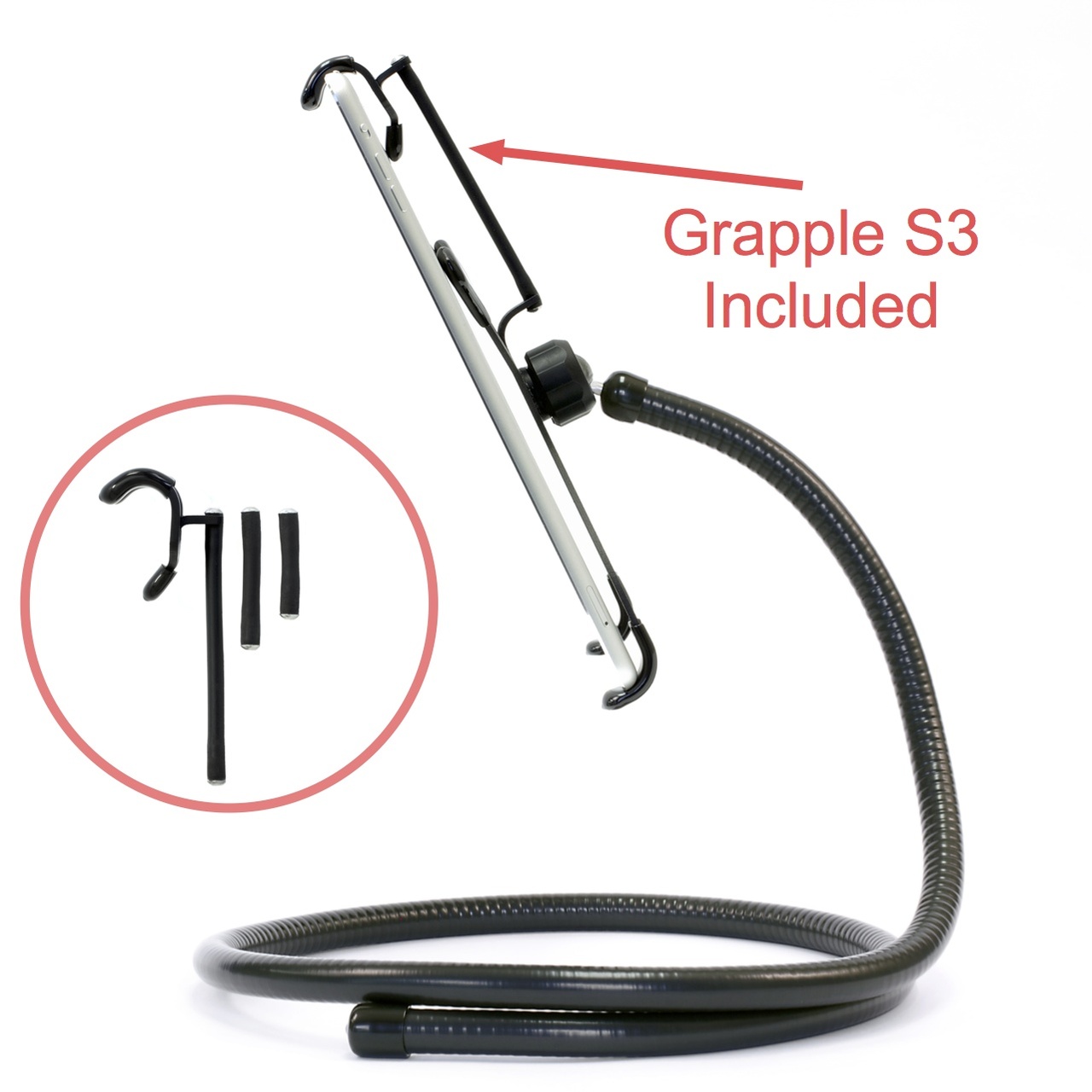 Heavy Duty
Built to stay put
At just over 3 pounds you will immediately see and feel the quality of this very unique flexible iPad stand. The 54" long, 5/8" diameter vinyl wrapped flexible coil is very strong. The strength comes from two steel lengths twisted together into one. On one end is a solid 3/4" solid steel ball that creates a fluid pivot joint for the iPad to be positioned instantly where you want it.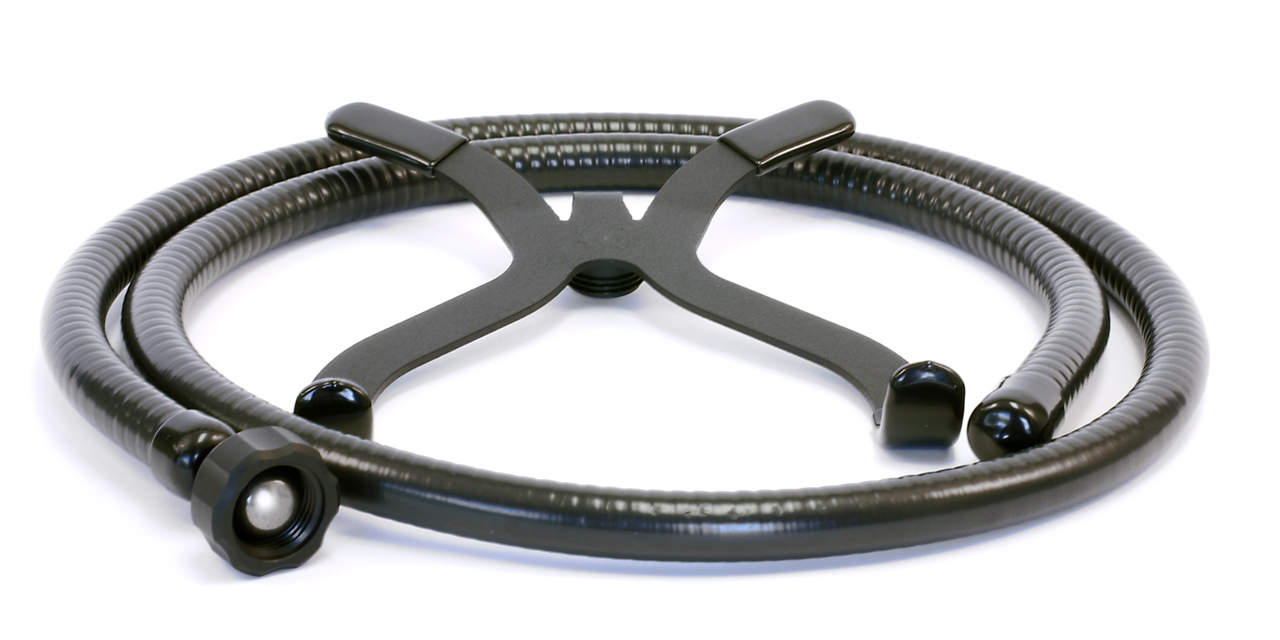 FEATURES:
3/4" steel ball pivoting holder

User adjustable thread for a fluid, loose or tight motion
80º motion left to right, forward and back

54" flexible coil to twist to any shape, (limited to a minimum 5" bend radius)

5/8" diameter, black vinyl wrapped

Solid and flexible steel construction, 3.125 Pounds
Finish Black - Low texture on the holder
4 holding pad locations (Vinyl)* available as spare part
COMPATIBILITY:
Designed for iPad Pro 12.9", iPad Pro 9.7", iPad Air 2, Air, 4g, 3g, iPad 2, 1g with or without a case, skin, bumper or protective cover.
Also works with but not limited to Samsung, Surface, and other tablets 6" and wider on the smallest side, and more
SPECIFICATIONS:
Weight: 3.125 lb

Length: 54"
INCLUDED ACCESSORIES:
WHAT OTHERS ARE SAYING:
As seen on DIY Network I WANT THAT - Episode DIWT-309H - BOTTOMS UP
AppAbled "I love the way it can literally be adapted to any environment"
OTHER PHOTOS:
Disclaimer and Nature of Product:
The setup and use of the Stabile Coil PRO with any automobile or similar setups will have varying results.
While extremely strong for its size, the Made in the USA coil cannot defy the laws of physics and gravity. Installations and uses cannot exceed the ability of the coils strength. Coil should not be used in a manor that allows more than 18 inches of coil from the supported end to the holder end (cantilever from where the device is).
* Available as spare part
Keyboard, case and iPad not included
Stabile Coil PRO™ is a trademark of Thought Out Company